September 16, 2021
In our digitally infused and SaaS-centric migration among much of today's enterprise-level business, it's no wonder everyone raves about the subscription revenue model. It's subscription this and subscription that, everywhere a subscription.
"You get a subscription! You get a subscription! And, you get a subscription," to coin Oprah.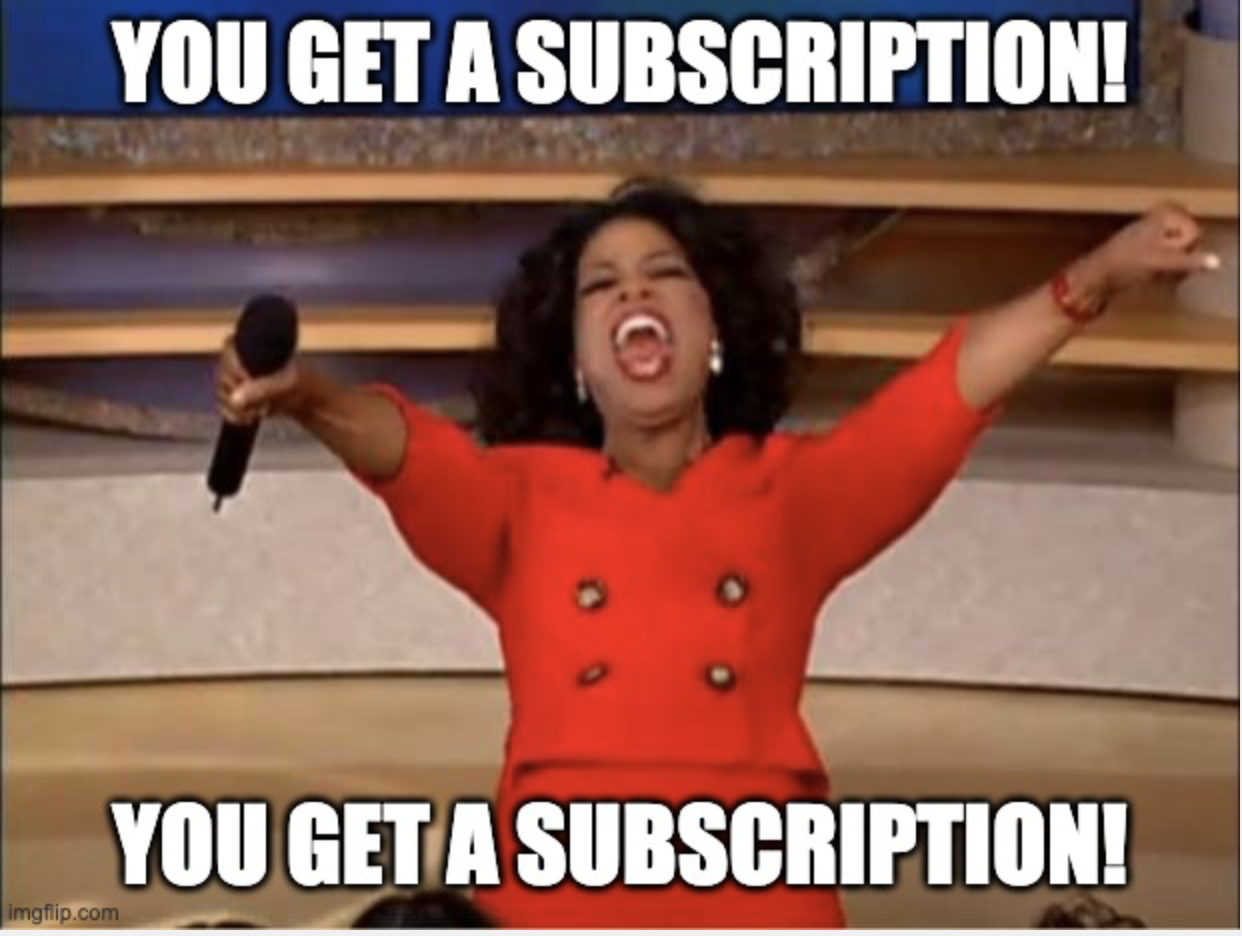 But, while the subscription model, in which customers pay a recurring price at regular intervals for access to products or services, is advantageous in establishing a reliable revenue stream, it does have its drawbacks. This option shouldn't be thought of as the 'end all, be all' of revenue models. If so, you may be missing out on some other great opportunities for your business.
Consider, if you will, a few disadvantages to a subscription revenue model:
Heavily dependent on a large customer base so critically important that subscribe rate outpaces unsubscribe rate

Ease of entry also accommodates an easy end to the subscription as well

Risk of unsubscription due to unused resource guilt

Continuous struggle to revamp, reshape and reinvent your services, plans and pricing to stay relevant and competitive
It may be no wonder then that, as a recent Forbes article pointed out, the past few years has seen a handful of high-profile, fast-growing tech firms such as Twilio, Jfrog, Stripe, DigitalOcean and Snowflake sway toward usage-based models at the expense of subscriptions.
In that Forbes piece, Twilio CFO Khozema Shipchandler stated though all those companies put to use some form of the subscription model, he didn't exactly hold back in explaining why, in his words, "we're super frustrated with them. 
"You're locked in from the start," said Shipchandler. "There's no room for movement and no way to account for the peaks and valleys that inevitably fill any business season such as the holidays, increase or decrease in demand, etc. In fact, the subscription model is increasingly becoming a relic of a bygone era. In my opinion it will ultimately disappear."
Which brings up the question: What other revenue models are out there?
A few of the more effective and popular revenue models employed successfully by companies big and small include the following:
Free Model (or Ad-based Model) – offer your service for free so the user (more importantly, the valuable information about said user) becomes the product being sold. Examples of this model include Google and Facebook.

Web Sales Model – a user pays directly for a product or service, with transactions conducted solely via the web.

Channel Sales Model – agents or resellers selling your product for you and either you or the reseller delivering the product.

Affiliate Revenue Model – a web-based system of promoting links to relevant products and collecting commission on sales of those products.

Freemium Model – a company offers basic services for free, enticing users to pay for additional premium features, extensions, functions, etc. Examples include LinkedIn and Spotify.

On-Demand Model – in this instance, the user does not own a physical product, but a virtual product or service. Examples include Amazon Video or Apple TV+.

Product is Free, Services are Not Model – while the product is given away for free, users pay for installation, customizations, training and other additional services. 

Access-Over-Ownership Model – a system allowing a user to pay for a product or service for a set amount of time without owning it. Examples include Zipcar and Airbnb.

Marketplace Model – a peer-to-peer or two-sided marketplace in which sellers and buyers use a third-party platform to trade goods and services. Examples include services such as Uber or platforms such as eBay and Etsy.
More businesses today are moving to consumption-based subscriptions that tie fees to usage, but those can come with risks and disruption to the sales cycle which need to be considered and addressed.
The mathematical equation which can determine a company's success is not a lone answer. The pandemic has created an unsteady environment of new market conditions and increased market fragmentation. As a recent report by Harvard Business Review, titled "How to Create a Winning Post-Pandemic Business Model," noted, most companies were slow to change their business model towards what the authors view as a necessary two-step to success: (1) select a strategy to target a defensible market segment and (2) tailor your business model to capture and dominate your target market. 
Many managers from the previous era, the Harvard piece noted, assumed their tried-and-true, broad-market business models remained effective until it was too late.
A dangerous combination for some of these models is to not only rely on outdated business models but pair them up with the outdated system tools that got them to this point. This could mean continuing forward with homemade internal solutions or patching up ineffective ERP systems with costly, short-term customizations as opposed to examining the modern solutions being made available, designed with the capability and foresight to handle all the relevant revenue models being employed today.
Because remember, it's not just all about the subscription business model.
Contact us today to learn more about how the most advanced billing, revenue and channel payments platform can help your large enterprise employ the right revenue model for you.