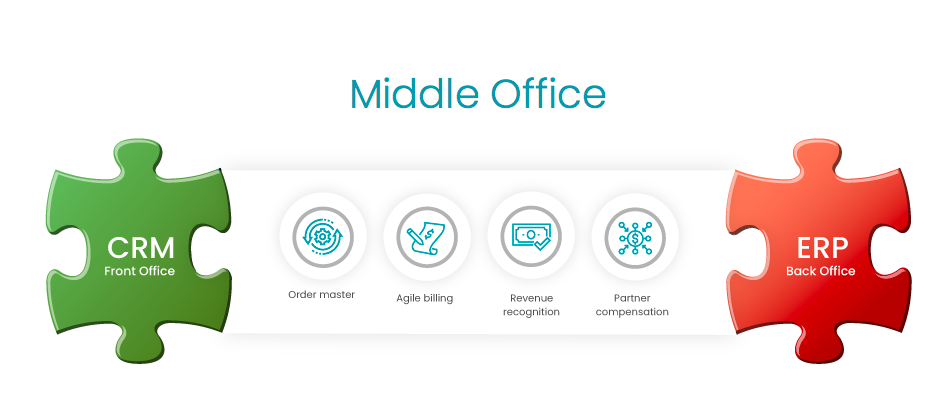 April 14, 2021
Published by: Forbes Technology Council
Authored by: Nishant Nair, CEO and Founder of RecVue
Customer relationship management (CRM) transformed the enterprise front office about 20 years ago. This happened on the heels of back-office modernization, which was made possible by enterprise resource planning (ERP) software. Yet the space between the two — called the middle office — is where most business operations run and remains a tangle of custom applications, Excel spreadsheets and manual processes.
This prevents you from embracing new business models that give customers greater choice. It also stands in the way as you work to introduce digital sales channels. Digital channels, which often involve revenue sharing, are even more important amid the Covid-19 pandemic. Just consider DoorDash, which said in May that sales were up 110% since the beginning of 2020.
Having an understanding of your revenue, cash flows and the cost of money is even more critical today. It will help you get out of the economic slump created by the pandemic and be competitive going forward.
The time is ripe for middle-office automation and modernization. Here's how to do it right:
Acknowledge the problem
The middle office is the nerve center of the enterprise. But custom-built applications and spreadsheets and fragmented, manual processes used in the middle office create problems. They add cost, complexity and risk while preventing scalability and stifling innovation.
That's not good for CFOs and controllers. And it's not good for the larger enterprise. Understand that the order-to-cash process is vital to your business, but acknowledge that the enterprise application landscape is broken. Once you recognize the problem, you can fix it.
Be aware of all that order-to-cash entails
Many people think that order-to-cash is just about creating and managing an order. But there's a lot more to the order-to-cash workflow than simply order and revenue management.
There are four components to the order-to-cash process. Those components include revenue management, order management, billing and channel partner compensation. Get a 360-degree view of your business model. This is important to stay ahead. Choose the solutions that automate and manage all of these different — and very important — aspects of the order-to-cash process to become even more efficient.
Understand that recurring revenue is here to stay
In recent years, many businesses have adopted recurring revenue business models. This is a good thing. As Harvard Business Review noted, recurring revenue can keep a business alive.
Despite the down economy, HBR said in June, nearly 90% of subscription businesses had flat or growing membership. It added: "If there is a lesson in the current unpredictable economic environment, it's the importance of recurring revenue streams for businesses of all kinds."
Realize that lifecycle models create new challenges
Be aware that recurring revenue business models are much more complex than traditional, one-time product sales. The traditional model is a transactional model. The recurring revenue model is a lifecycle model, which means that rather than ending after the sale, it's just beginning.
A lot of changes could happen to an initial order, and you might have a lot of non-standard pricing terms. A customer leasing a car might pay a fixed monthly amount, based on miles driven, or a combination of the two options. You may want to offer the first three or six months free. Customers who drive more miles may want to pay less per mile, so you may need to offer volume savings.
You have to recognize and calculate all this revenue to ensure that everything gets billed per customer agreements. Be aware that billing completeness and ASC 606 compliance may not be possible with an outdated middle office. Data loss is common in such environments in which data traverses multiple systems and people. That can result in revenue leakage and overbilling.
Seek to simplify revenue sharing
Speaking of customer experience, customers today are looking for end-to-end solutions that work for them. No one company can do it all alone, so the traditional one-stop shop is dead. It's given way to industry ecosystems and online marketplaces like Amazon and the App Store. These partner-led solutions rely on revenue sharing among multiple companies.
Just consider one of my company's customers, Hertz, which has scores of partners. You can book a Hertz rental car through American Airlines, American Express or Expedia, as just three examples. When you do, Hertz pays a percentage of that revenue back to these partner companies. It is a highly intricate process considering that each engagement involving a channel partner agreement must include what needs to be paid to whom, on what basis, on what type of vehicle and other details.
Revenue sharing is complex. Seek partners that can help to simplify these partnership-related processes so you are better positioned now and in the future.
Save money, scale your business and score with customers
Recurring revenue models and partners bring new opportunities. They create challenges, too. Address those challenges — and bridge the gap between your CRM and ERP systems — by modernizing your middle office. Look for an integrated solution that addresses and automates the entire order-to-cash process. Make sure that a single system can support your existing business model, the business models you're shifting to and the business models of the future.
Modernizing your middle office will lower your total cost of ownership and decrease revenue leakage and compliance risks. You will gain the agility to adopt and adapt new business models to address changing customer expectations, make your business more competitive and scale.
The pandemic prompted businesses to think about what they are and what they want to be. It provided an opportunity to reinvent business for the post-pandemic world. Companies now have the motivation to break down data silos, modernize the middle office and move forward.