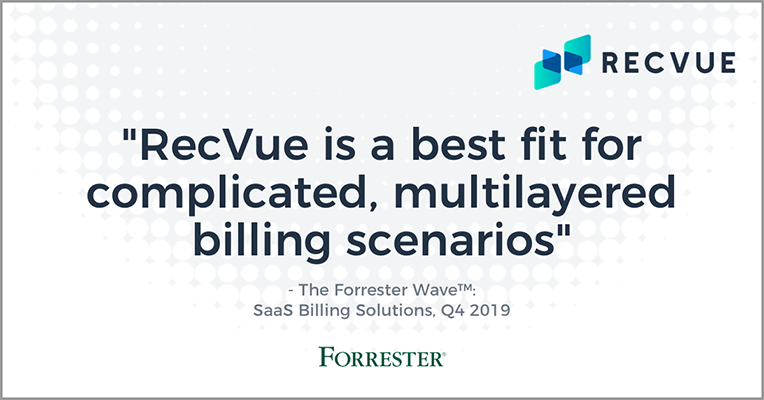 November 21, 2019
RecVue's next-generation billing technology was just recognized by an independent research firm as a best fit for complicated, multilayered billing scenarios, and is a good fit for enterprise B2B or B2B2C firms that process high volumes, with complicated rules around pricing or billing
We're thrilled to announce that RecVue has been included in an important industry report from Forrester Research. The Forrester Wave™: SaaS Billing Solutions, Q4 2019 is a thorough evaluation of the top providers that develop and market SaaS-based billing technology.
In addition to recognizing RecVue among the top providers in the sector, the report highlights "RecVue is a best fit for complicated, multilayered billing scenarios." According to Forrester: "RecVue is built … to facilitate billing when contracts, commissions, or other requirements are especially layered or dynamic … it counts several very large, established companies among its customer ranks."
In our view, RecVue's capabilities stand out
While we cannot comment on the contents of the report, there are some interesting observations that may inform the decisions of CFOs, CIOs and CTOs as they evaluate vendors of SaaS billing solutions. A striking takeaway is that RecVue is already managing billions in transaction volumes on behalf of our customers.
In fact, when compared to the legacy vendors featured in the report, we believe that RecVue already has an impressive volume of revenue under management for a relative newcomer. This speaks to our next-generation technology and explains why we're fast becoming the SaaS billing solution of choice for large enterprises with extremely complex subscription management and revenue growth ambitions.
Match your solution to your business model—now and into the future
Some of the providers featured in the report are more focused on small to mid-market businesses with low to medium transaction volumes. RecVue, on the other hand, is focused on addressing the needs of large enterprises that have heavily invested in their ERP. One of the reasons enterprises like Hertz have selected RecVue as their solution provider is that other solutions simply cannot address the unique challenges faced by these Fortune 5000 enterprises as they implement recurring revenue billing—either as part of a business strategy pivot or as a complementary approach to their existing business strategy.
This is an important point that we believe distinguishes RecVue from some of the legacy providers in the report. As some Fortune 5000 enterprises transition from product-based revenues to service-based revenues, they will need to tackle a multidimensional billing problem that will require a product built from the ground up to handle that challenge.
Right from our founding, RecVue has been focused on large enterprises that need monetization and subscription billing management at scale. We like to say that we'll "put your ERP system on steroids" — by which we mean RecVue transforms your current ERP billing capabilities *without* the need to rip it all out for something new.
This is a critical consideration for established enterprises that need to cross the chasm to quote-to-cash, subscriptions, and consumption-based billing approaches that will propel their business growth in the XaaS economy. And it's worth noting that this mode of billing is increasingly becoming the norm in industries such as transportation, media, high-tech, healthcare devices, fintech, and communications.
For more information on "The Forrester Wave™: SaaS Billing Solutions, Q4 2019" report (Forrester Research, Inc., November 20, 2019, Lily Varon), check out Lily's blog post here.