January 27, 2022
"Billing data is going to become even more valuable because it's part of a first party data strategy. This data has what a customer purchased, when, what method, the fees charged and other changes throughout a lifecycle along with other record details. It has really useful and unique and contextual information on customers that companies will leverage more of in the future when other sources become less prevalent."
This comment from Forrester Senior Analyst Lily Varon, during this week's RecVue webinar titled "The Future of Business Requires Powerful Billing Technology," was a follow up to her firm's research-fueled prediction retailers and brands will soon know fewer than 20% of their customers.
It was but one of the many fascinating and forward-thinking tidbits shared.
We were honored to have Varon join us for the hour-long session, done in association with Forrester Research, to delve into the research and advisory firm's identification of billing technology as one of the most important technologies to support the future of buying.
Varon, clearly energized when discussing the billing industry she's covered for a decade-plus, said she's always surprised when the technology in this space isn't given its proper due in terms of importance, but had a ready response for why.
"One key challenge in this space is that the capabilities buyers expect from a billing solution vary quite considerably, depending on industry, company size, department and more so what constitutes billing isn't universally applicable," she said. "All of this makes it difficult to define the market."
A market – with technology offerings – for which, Varon noted, based on her own customer interviews, "anything is possible with our billing, but we also use our billing system for guardrails" to combat the big picture risks of lack of compliance and inter-departmental head-butting.
"We had one customer we spoke with who didn't have a subscription-friendly billing system, and had to deal with serious workarounds," she said. "That's a problem today, but a bigger problem tomorrow."
Varon, in conversation with RecVue's Director of Marketing, Matt Ream, also discussed the circumstances and importance of configurability, the comparative nature of the shape-shifting amoeba to today's tools and billing customers and some eye-popping findings of Forrester's future fit assessment.
If you weren't able to join the live webinar, don't worry. We've got you covered. You can click below to listen to a replay of the session at any time. Just don't wait too long, as that billing technology-fueled future is already underway.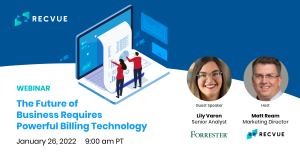 To learn more about how the advanced billing technology of RecVue's monetization platform is ready to tackle your organization's complex billing processes, contact us for more information or to schedule a demo